"Infinity-of-Space-'8'0" © 2016 Brad Michael Moore | Digital Artifact~Painting~Drawing ~ Abstract
---
"In the Eye of the Beholder" © 2017 Brad Michael Moore
---
My Abstract Artifacts
I make Digital Artifacts - using new & old photo images - Analog & Digital, new & old paintings & drawings of mine, and, sometimes, I incorporate textures & line art from plates of rare old books from Rare Book Collections that hold the very oldest prints plate-printed from over 200 years ago. I am an Abstract Digital Constructionist - & I build digital files. Any particular file may have as many as 200 layers during its making, and thousands of actions, and many thousands of more glimpses - paths not taken... Each layer holds an aspect of everything I have already listed, and as I create this digital soup [so to speak] I begin focusing these many elements into a single [.tiff] file structure.
Now, I choose which aspects of each layer to filter (I use many Pre-set Algorithms that respond in specific ways to different pre-visualized structures I offer), and I recolor, as I re-texture all of my file layers - until I reach a new image to my liking. Sometimes, I find my outcome is better fodder as an addition to my library - to use another day as part of a bigger notion… At some point, I merge all my layers into one flattened single-layered file. At this point - the image can be printed as an original Archival Pigmented Ink Print, on canvas, or any assortment of other archival glossy, luster, or flat [non-glossy] heavy-bond archival papers. I prefer 'Luster' surfaces… I also convert the image into dupe .jpeg's for Internet purposes – or, I may ready it to send to other hardware media - for other specific outcomes...
This process is one I began procreating 2003-4, and it is a unique style that would be very difficult to duplicate - in that it is based upon my unique library of images I have collected for sixty years - all with varying degrees of my fingerprint. So my images are pretty unusual Abstractions. As an artist, at this point in my career, I offer my work to the art world [and our world at large] as mature visional abstractionist art - sunbaked & ice-icicled! So, theoretically [for me], my art career is still only beginning. Early in my life, after being thought of as a Commercial Professional photographer, I then became associated as being a Nature Photographer, and, finally, on to being a Fine Arts Photographer… Now, I am a Folk Digital Constructionist Abstractionist Artist – creating Digital Artifacts. Self-taught!
I have been, most recently, been driving on a savant-like speed course - nearly creating a work-a-day on average - since mid-February, 2016. I'm in the 17th year of this vision, and the 47th year since becoming a professional photographer in Dallas, in 1970. Like everyone else - the world demands time from my art for the mundane aspects of day-to-day living - so, I cannot work every day - though I would if I could - an ethic Douglas Tomlinson taught me so long ago...
On a personal note - 2005, and 2010, have been my previously most productive years… Then, as now, I work prodigiously in the solitude of my rural country farm, in Jack County, TX. - where I have lived, in isolation, since I left my hometown of Dallas, in the spring of 1993 - at age 40.
While I may be a Hermit, I am a Folk Digital Constructionist-Abstract Artist creating Digital Artifacts... It's a mouthful, I know… Abstraction is a distinguished art form, and requires an understanding to its place in our art history, and it's place in the history of some of our greatest artists - in order for it to be appreciated, and to find its niche for collectors, museums, and abstract collections.
My original journey into Abstraction began in the mid-late 1980's when, Dallas Art Collector Connoisseur, Howard Rachofsky, introduced me to his, 'Frank Stella Abstract works' - in his Contemporary Art Collection. I have been on a vision quest ever since - first developing my visual art library - between 1986 and 2005. My first Digital Artifacts were produced on the Perrin Farm in 2003-4.
---
"Just the Four of Us" © 2016 Brad Michael Moore"
---
Life Story
"At 15, I was looking to be a singer- songwriter... During the USA Texas International Peace (Pop) Festival (in 1969's Summer of Love), I ran into my old neighbor, Former Dallas Cowboy Quarterback, 'Dandy' Don Meredith. Someone in his company had a very professional looking camera - I had a very unprofessional one... The time was three weeks past Woodstock. The next week, I asked my mother, and Stepfather, for help obtaining a camera of professional quality. Before, I had begged for a 1969 Chevy Super Sport 396 (or any Hot-Rod). They considered this a more reasonable request - and a bit later, they helped me purchase a 35mm Canon. Like retrofitting a motor on an old style bucket - I started to churn immediately. Less than two years later, I began my professional photography career.
"Brainstorming" - Images from Munich, Germany, and The Perrin Farm -Texas USA © Brad Michael Moore 1982-2004-2008
In Dallas, Spring, 1971, at the age of 17, I spent four years working with Architectural Photographer, Douglas E. Tomlinson, nine years my senior (now deceased). A fine credit to Doug would be his, 'Same Titled' Book & Exhibition, "Dallas: From the Ground Up." It illustrated the elder, "Architectural Dallas," still standing in 1975! Doug's images preserved precious parts of that history - soon to fall to developers of a booming metropolitan city. The book was published to coincide with a premier of Tomlinson's images at the old, "Dallas Museum of Fine Art at Fair Park..."
---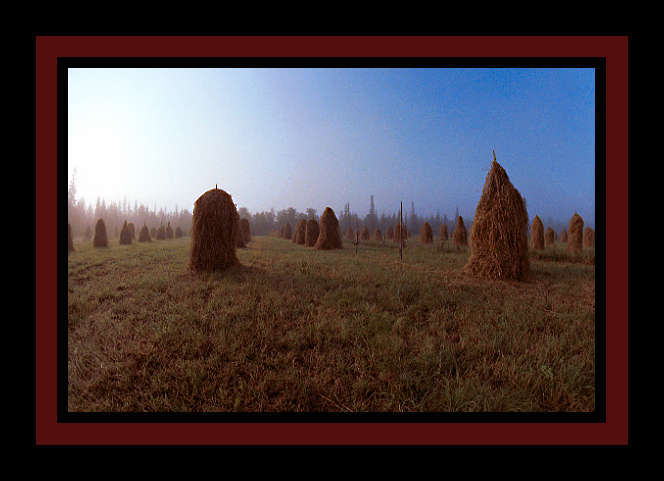 "Hay Stacks - Norway" © 1982 Brad Michael Moore"
"So from the mid-seventies, I shifted my photo concentration to landscapes, and wildlife image captures, for the next ten years (and onward to present). It was during this early era, I first began manipulating my imagery, and started my 'MultiPlex Series." After 1984, I began to explore more deeply - the 'fine art nature,' of the image captures I made - becoming mindfully more painterly in the manipulations I created and photographed. I worked more in the home studio - or set up work stations in the mountains near Lake City, Colorado, so I could access natural materials more readily."
"I was curating exhibitions in the Dallas-Fort Worth MetroPlex when I broke my back, in a cycling accident, in the fall of 1989. I had known pain before - but not like this pain. It became my permanent neighbor - I was 37. So, I would spend the next 3 months in a full-body brace, recalcifying my First Lumbar vertebrae - mostly on my sofa. I could get around on my hands and knees. I had real friends - the kind who would wash me, and dress me - even brush my teeth (I couldn't do the sideways motion), and this was just before the electric toothbrush... I had no health insurance - one of nearly 10 million Americans then, and one of 50-plus million Americans before American President, Barrack Obama gave Americans his Affordable Care Act (ObamaCare) that today - allows those who were uninsured, or uninsurable - the ability to purchase health insurance - no matter their pre-conditions... But, in 1989, I had to sell the best pieces of my small fine art glass, and photography collection, to pay off my medical and hospital bills. The image I sold, and miss the most - was my Arnold Newman portrait of Pablo Picasso, circa 1954 (hand on head). I had purchased it for $400.00, in 1984, personally from Arnold Newman. Newman was on a lecture visit to Dallas - at a gallery where I served on the board. Arnold Newman would eventually pass away on June 5th, 2007, and the image I sold - is now valued at $40,000.00 or better (according to ArtNet)... For me, the Picasso portrait was priceless... However, having had the art on my walls for five years, it became a gift that keeps on giving... Although it is no longer in my phyiscal possession, I still carry the lessons it taught me - and that is to question everything - give up nothing without a fight."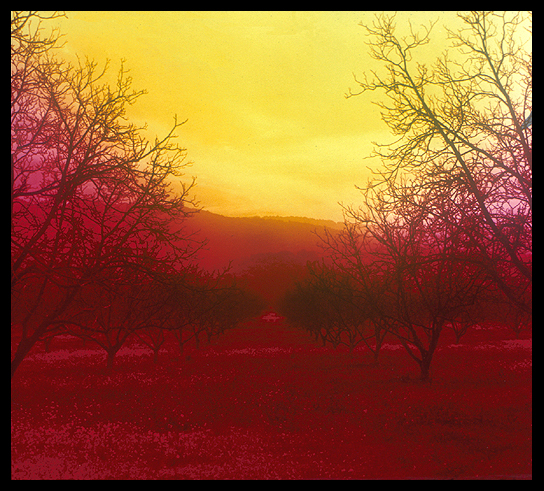 "Orchard," Rare, Unique C-Type 11 x14 Image , Summa Valley, CA. © 1978 BMM
"While recuperating from my accident, for the next quarter of a year, I began to acquire a mounting credit card collection. It quickly accumulated (unsolicited) after I paid off my medical/hospital bills from the blood money of my art collection - gone to art purveyors. I decided I could go to college the next spring, and charge my education. My grandmother, Mimi, would chip in along the way."
"In the end, I got all the education I could on my own - a lot of it I could even use. In the beginning, I would walk 3 miles in the predawn hours of each school day - to catch a shuttle bus on the old Central Expressway - just north of downtown Dallas. It was a 57-mile long trip between that part of Dallas and campus in Denton, Texas. It was a tough first year. By my forth semester, my mother gave me her old, well-used Fleetwood, and I began driving the commute myself. Since I already knew photography, intimately - for my studies, I concentrated on sculpture as a major focus, and I minored in English. Sculpture was a brave choice for a man recovering from a broken back... I often built larger than human-sized works. Eventually though, I fell one semester's worth of credits short of my Bachelor of Arts, from The School of Art, at The University of North Texas, in Denton... My maxed-out credit cards, my life in waiting, and Mimi, could carry me no further... My oldest brother, Guy, had already checked out our dead-beat dad for help with his education, to no avail - so, here was 'my end' of the "Paper Chase..."
"It seems I have no real hobbies that are not, in some fashion, related to my art processes. My interests are, to be better motivated in creating the art of my imagination - both from day and night dreams, and also, from the art ponds of creation - carried by human spirit, and Mother Nature."
"My education it seems, was of limited value to my path in my art - I had already begun exploring AutoCad (Computer Aided Design) before I went to college, and my 3-D explorations dwindled after I determined I could not afford the visions of my esthetics. Still, the English Minor I endeavored for was indeed, an effort I found worthy, and useful. Debate and critical review were other notions I polished up on. An European artist, working in Denver, Colorado, Sasha Louie, quotes from Albert Einstein on her web pages... Aberto having once said, "I am enough of an artist to draw freely upon my imagination. Imagination is more important than knowledge. Knowledge is limited. Imagination encircles the world..." Great thought - Einstein!
/||
'(1) Doug Tomlinson, and I, continued to come together together ever fall, as a ritual of friendship, for 35 years, to shoot Dr. Copper's Annual 'Tyler Cup Run' - created to raise health awareness within American companies. I would most often work the event also with Frank Shorter, the 1972 Olympic gold medalist, and 1976 Olympic silver medalist in the marathon. Shorter was also the first chairman of the United States Anti-Doping Agency. Doug, who had been fighting Cancer for four and a half years, passed away in June of 2006. With his memory in mind - I retired our association with what had grown to become the, "Cooper Institute," that upcoming fall."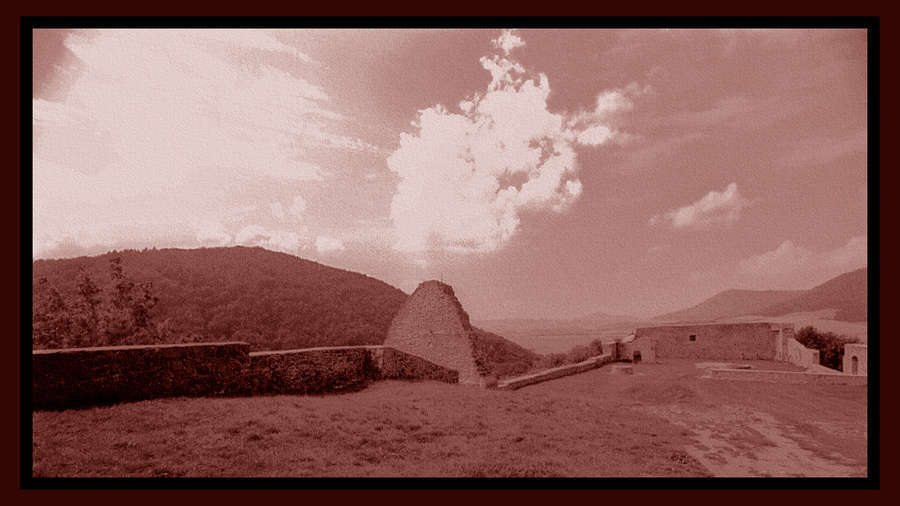 "Ruins - Sweden - Monochrome" © 1982 Brad Michael Moore

Born July 2nd, 1952, Dallas, Texas USA - In the Beginning
"When I was four and a half, my family was returning home one night during a raging rain storm. Right as we were entering our front driveway - a huge bolt of lightening struck our Red Oak tree, and split it in two - right down to the ground. It was an awesome experience for a little kid. My parents replaced the Red Oak with an Ash tree that fall. I first began photographing the next year (with my grandmother's camera). That next spring - the new Ash tree was blooming, and it caught my eye, as I was playing on the front porch walkway. I looked up into the tree's buds sprouting, and saw high wispy Cirrus clouds through the tree's branches... This became my first meaningful photograph - captured in black and white in 1957."
/||
"Blooming Ash - Dormant Pecan, Fairfax Avenue" © 1957 Brad Michael Weiss / 2008 Brad Michael Moore
"As a young adult, and professional photographer, I became a, 'Color Specialist.' Turned out my business partner, Doug, was 'Color Blind.' Doug helped me to develop my color senses, and technical expertise, in the same fashion as he had developed his own sense of the Black & White photography medium - where he had become a master of Ansel Adam's Zone System. For me, there were a few more trials and errors, for the field of color artists, techniques, and the history of the color medium, were all very shallow in 1972."
"It was meaningful for me that, 12 years earlier, President John F. Kennedy's Administration was the first, in American History, to use color negative film to record the historic events of his tenure. That was a earmark I noticed in my youth, and JFK's courage rubbed off on me to push at an art form that, in art gallery values, was glazed with short-sightedness, considered a medium most unpopular, and uncollectible, at the time. I had settled on working with color negative film, and C-Type Prints, versus the more stable (and popular) chrome films, and the developing additive printing processes. My reasons were simple – I let my eyes be my judge… I was always drawn to tonality - Primary and Secondary. After many childhood family trips through New Mexico, the power of what I call, 'Epitome Colors,' had forever augmented my perceptions. As soon as I pulled my first color print, around the beginning of 1972, I discovered the, 'essence of epitome coloring,' mixed throughout the particles and atmosphere within the landscape. It has always kept me striving to sharpen my skills of perception and capture."
"I began my serious wildlife, and landscape work, in the mid-1970's; I moved into the fine art of imagery in the mid-1980's, and then dived into sculpture in the early 1990's. I explored editorial documentary photography during the late 1990's. I trained myself, via PhotoShop, from 1996, to finally grow my photo-art into, 'Complete Digital Deliveries,' into the early 2000's. Presently, my "Digital Artifacts," continue to progress, as I grasp for new terminology to discuss my work, and its medium. Older art terms no longer seem to fit this new realm of digital technology, and it's place in Art's History - now in the making - so the, "Speak," continues be amended..."
"Born a third-generation Dallasite, I finally decided that 40 years of big city life was enough for me... Since 1993, I have lived, and worked, on a small 50-acre farm, 75 miles north, and west, of downtown Fort Worth, Texas. I live in the big old middle of a nowhere you have ever heard of. In fact, on my Texas Driver's License - it just reads: Rural, Texas... That, my friends, is as good a place to do art as any - however, socially speaking - it sucks... Finally, while I never caught up with my dream to be a singer-songwriter - I did learn to express my music visually..."
/||
"Tree Shadows - Perrin Farm" © 1996 Brad Michael Moore
---
"Another Bio Review"
BIO (Early Career)
My Name is Brad Michael Moore, Born July 2, 1952, in Dallas, TX. I began taking photographs at the age of five - when my grand-mother, 'loaned,' me her Argus Twin-Lens 6x7. At age 15 (Just after the 1969 Texas International Peace Pop Festive, in Justin, Tx., Summer of Woodstock!) my mother, Gwen, and my 1st Step-father, Roy Truitt, instead of purchasing me a 'Hot Rod Chevy,' granted me a smaller wish - a Canon 35mm SLR camera!
I used one camera store, to develop all my film, and make prints of my best works. There, Two Professional Photographers caught wind of my, 'eye & enthusiasm,' from the store owner - who would show them my work. So, at the ripe old age of 17.5 years - they hire me to be their 1st lab assistant! One of them was a Master Printer of Ansel Adams, "Zone System," - so I learned everything about film developing, and the concepts of great printing, in my first 6 months of work! Then, as luck would shine on me, my Great-grand-mother, Donna Thompson, who has earlier passed away - when I was 15, had purchased a lot of Bristol-Myers Stock - that was sold when I turned 18 [per her instructions]. At the same time, my two employers were splitting - up because one wants to train Arabian Horses - with his lady-friend... Depressed, Doug Tomlinson, a ten-year-plus professional, at the time, was filled with knowledge, talent - and no money in his pocket! So, in 1970, I used my fair amount of cash to buy into an equal partnership with Doug. I gave him the money, and told him to finish teaching me all he knew - while we built a new, larger business - under a new name where, eventually, we hire three more employees, and incorporate. I legally have my, "Minorities Removed," - since at age 18, in my state - the legal age [to drink, and to sign contracts was 21!] Got that legal mess taken care of, but, I still couldn't drink, but, I could obligate myself to the responsibilities of financial & legal laws for adults. In Texas, they changed the legal drinking age back to 18 - just around my 21st birthday...
Since Doug was color-blind, we decided to teach me how to develop color film, and prints, in 1971. I handle all the color needs of the business - while Doug handles the B&W work, and most of the view camera requirements - Doug would still teach me all of those skills too! I couldn't have asked for a greater partner - Degreed, intelligent, selfless, honest, sincere, and always looking to improve our skills, and knowledge base. We stayed together for about five years, and then sought out individual paths - shaking hands - a little hug, and then each off to the races. It was now approaching 1975.
---
BMM
AlphaSight.com / Brad Michael Moore / American Artist