Storm and Diaster Relief - (World-Wide)
(An Everchanging List for Everchanging Events...)
---
NBC News and msnbc.com
22 July, 2011
More than 11 million people in the Horn of Africa require food assistance due to the region's worst drought in half a century, the United Nations says.
The UN says that famine exists in two regions of southern Somalia, southern Bakool and Lower Shabelle. Across the country, nearly half of the Somali population — 3.7 million people — are now in crisis, of whom an estimated 2.8 million people are in the south.
But parts of Kenya and Ethiopia are also in crisis.
Here are some key organizations that are providing aid in the region.
---
♦Resources related to the Japanese Earthquake and Tsunami.♦
American HealthCare Free Clinic (for the Uninsuried & Unisurable)
The National Association of Free Clinics (NAFC) is the only nonprofit 501c(3) organization whose mission is solely focused on the issues and needs of the more than 1,200 free clinics and the people they serve in the United States.

To Donate: CLICK HERE!!!
{{{{ http://www.freeclinics.us/index.php }}}}

To Register to volunteer:
www.regonline.com/nolacare

Patients call 1-877-236-7617
Relief Organizations:

Action Against Hunger, 877-777-1420
*
American Red Cross, 800-733-2767
*
American Jewish World Service, 212-792-2900
*
AmeriCares, 800-486-4357
*
Artists for Peace and Justice
*
Beyond Borders, 866-424-8403
*
CARE, 800-521-2273
*
CarmaFoundation
*
Catholic Relief Services, 800-736-3467
*
Childcare Worldwide, 800-553-2328
*
Concern Worldwide, 212-557-8000
*
Cross International, 800-391-8545
*
Direct Relief International, 805-964-4767
*
Doctors Without Borders, 888-392-0392
*
Feed My Starving Children, 763-504-2919
*
Food for the Poor, 800-427-9104
*
Friends of WFP, 866-929-1694
*
Haiti Children, 877-424-8454
*
Haiti Marycare, 203-675-4770
*
Haitian Health Foundation, 860-886-4357
*
Hope for Haiti, 239-434-7183
*
International Medical Corps, 800-481-4462
*
International Rescue Committee, 877-733-8433
*
International Relief Teams, 619-284-7979
*
Lutheran World Relief, 800-597-5972
*
Medical Teams International, 800-959-4325
*
Meds and Food for Kids, 314-420-1634
*
Mennonite Central Committee, 888-563-4676
*
Mercy Corps, 888-256-1900
*
Operation Blessing, 800-730-2537
*
Operation USA, 800-678-7255
*
Oxfam, 800-776-9326
*
Partners in Health, 617-432-5298
*
Project HOPE, 800-544-4073
*
Rural Haiti Project, 347-405-5552
*
The Salvation Army, 800-725-2769
*
Samaritan's Purse, 828-262-1980
*
Save the Children, 800-728-3843
*
UN Central Emergency Response Fund
*
UNICEF, 800-367-5437
*
World Concern, 800-755-5022
*
World Hope International, 888-466-4673
*
World Relief, 800-535-5433
*
World Vision, 888-511-6548
*
Yele Haiti, 212-352-0552
"Roadside Girls near Otavalo, Ecuador" © BMM 1982
My Permanant Poverty/Hunger Links: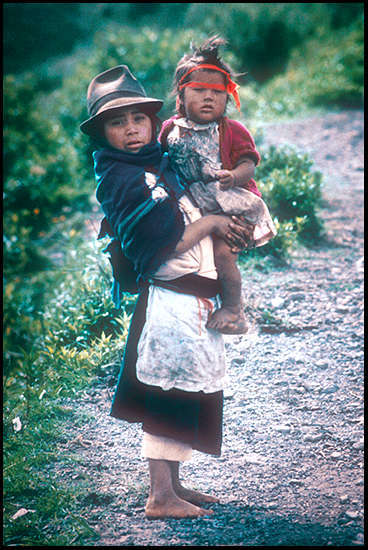 CNN / "Impact Your World," Page
UN Habitat Water and Sanitation
(South America)